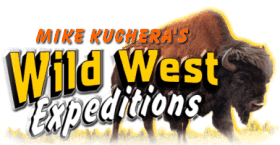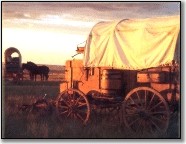 Wild West Expeditions is a full-service, specialized tour operator that provides visitors with unique travel experiences to South Dakota. We also customize group tours to South Dakota, North Dakota, Wyoming, Montana and Nebraska. We have planned trips with set itineraries or will coordinate a customized trip for your group. We offer complete packages for your western vacation. All you need to do is get here and we will take care of you. Our expeditions are not "roughing it" as we stay in deluxe accommodations and eat "great food."

Re-live the adventures of the wild wild west. You can experience an exhilarating canoe trip like Lewis and Clark, get up close and personal with a roaming buffalo herd, ride with the cowboys and wranglers on a working cattle drive, join the native Americans in an Indian pow wow, or bounce along the prairie and through the mountains on authentic covered wagon rides or ride horses through beautiful back country. We put you face-to-face with real life western adventures and, at the same time, you are able to visit well-known national landmarks.

We are offering three-day expeditions during the months of June and July for individuals, families and friends to join together for a fully-escorted tour. Leave the details up to us. Please contact us for available dates.




Mike Kuchera's Wild West Expeditions
Phone: (605) 996-1120
Fax: (605) 996-1232
E-mail:mkuchera@wwexpeditions.com
Mail: P.O. Box 10, Mitchell, South Dakota 57301-0010 U.S.A.


United States Fire-Arms manufactures Old West guns and cowboy action shooting rifles.
Copyright © 1998-2015, Mike Kuchera's Wild West Expeditions - All Rights Reserved